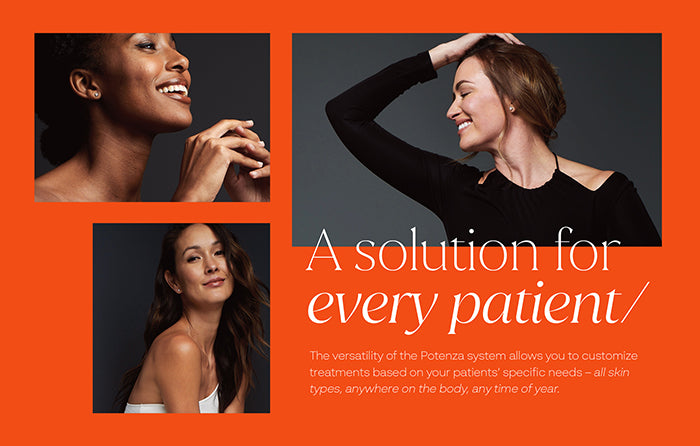 What is Potenza RF Microneedling?
With the use of a handheld radio frequency microneedling device operated by one of our trained providers, the ultra-fine needles and FDA-approved radio frequency penetrates the skin's most outer layers, triggering the skin's natural repair process. As a result, new collagen and elastin is created leaving skin looking tighter, firmer, brighter and younger-acting.
Potenza's Tiger Tip needles eliminate the provider's need to re-trace their steps during a treatment thanks to this special technology that can perform both shallow and deep treatments for various skin types. This means faster, more customizable treatments for individual skin types and conditions.


How does Potenza RF Microneedling work?
After makeup removal and cleansing of the skin, a topical numbing cream is applied 30 minutes prior to the treatment. During treatment, a microneedle tip is placed on the outer layer of the skin. The microneedles penetrate the tissue as the monopolar or bipolar radio frequency energy is directly applied to the target treatment area. This is where the body's natural repair process is triggered, resulting in the building of new collagen and elastin over the next 4-6 weeks after treatment.
After treatment, the provider will apply topical finishing products including sunscreen. Most patients see their full results 12 weeks after their last treatment. Potenza RF Microneedling treatments are generally performed within one hour.
What skin concerns and body areas does Potenza RF Microneedling treat?
Potenza RF Microneedling treatments can treat a wide variety of skin concerns on the face and body. This includes treating signs of aging and sun damage like fine lines and wrinkles. It can also help treat acne scars, stretch marks, skin irregularities and shrink pores. Most common treatment areas are the face, neck, décolletage and chest. What we love about this treatment the most is that it can treat all skin types, anywhere on the body, anytime of the year.
Does Potenza RF Microneedling hurt, even with numbing cream?
Most patients say the discomfort level for this treatment is minimal and tolerable, but everyone's discomfort threshold is different. Once numb, your skin may feel "spicy" with a slight stinging or mild burning sensation and light pressure during treatment. Some patients may also experience small pinpoint bleeding during treatment, which is normal. If you're a sensitive skin type, talk to your provider who can then either apply more numbing cream or extend the numbing cream process a bit longer before your treatment.
Is there any downtime with Potenza RF Microneedling?
Some patients may experience small pinpoint bleeding during treatment, which is normal. Patients can also expect to experience swelling, redness or irritation immediately after treatment. These symptoms generally clear up within two to three days after treatment.
How many Potenza RF Microneedling treatments are needed to see results?
The number of treatments needed will depend on patient preference and their desired results. Providers will typically recommend having a series of three to four treatments, six weeks apart for best results.
How do I know if I'm a good candidate for Potenza RF Microneedling?
A good candidate for Potenza RF Microneedling is anyone who wants to address fine lines and moderate wrinkles on the forehead or around the eyes, texture irregularities on the skin, tightening to the skin, uneven skin tone from sun damage, acne scars and stretch marks.
Interested in having a Potenza RF Microneedling treatment? Give us a call to book your consultation with one of our trained providers. A consultation is required before treatment to determine if Potenza RF Microneedling is right for you. During the consultation, the provider will recommend an appropriate treatment plan for you designed to help you achieve your desired results. Contact us to set up your consultation.